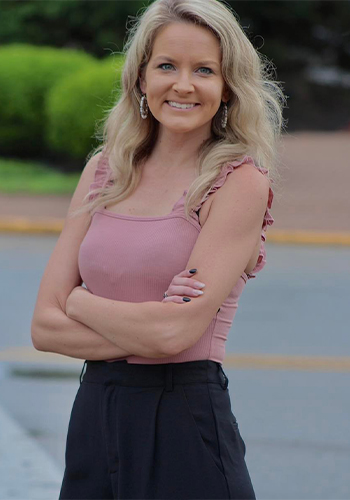 Tara James is a dedicated real estate professional with a deep-rooted connection to Brown County, Ohio. Growing up in this vibrant community, she developed a love for the local landscape and its people. Beyond her commitment to real estate, James harbors a fondness for Jeeps and horses, which speaks to her adventurous spirit and appreciation for the outdoors.
With an innate passion for helping others, James is driven by the desire to see people achieve their dreams. Guiding individuals and families through the process of homeownership brings her genuine satisfaction. Her unwavering dedication to her clients' goals and aspirations shines through in every transaction.
James, along with her fitness enthusiast husband, and their two beautiful children, has made Georgetown, Ohio her home. This nurturing environment provides the perfect backdrop for her to excel in her role. She joined the RMRE team in 2021, and since then, her commitment to her clients and her genuine care for their needs have been the hallmark of her approach.
Tara James thrives on the energy that comes from helping people embark on their homeownership journey. She believes that a home is more than just a property; it's a canvas on which to paint dreams and create lasting memories. With her love for the local community, passion for real estate, and dedication to assisting others, James is a valuable asset to anyone looking to achieve their real estate goals.